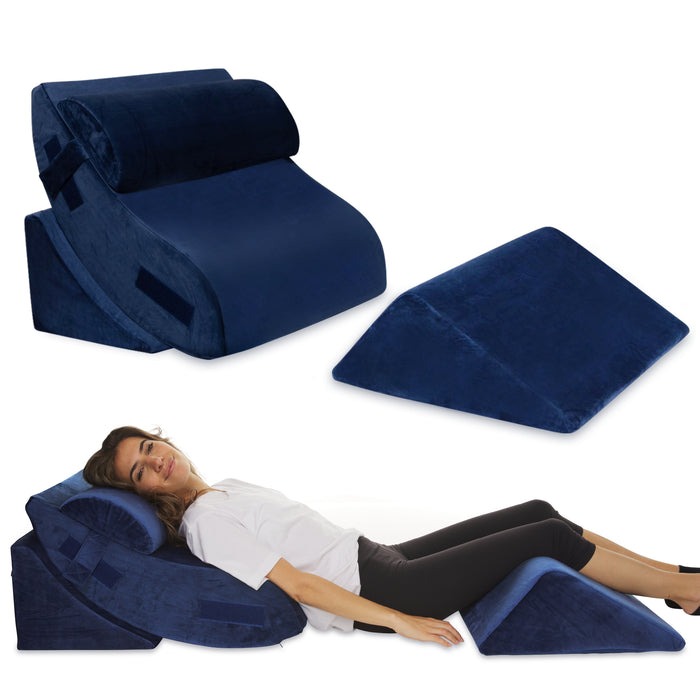 4 pcs Bed Wedge Pillow - Post Surgery Advanced Adjustable Pillow Set with Memory Foam - Relief System for Shoulder Back, Neck and Leg Elevation | Acid Reflux, Anti Snorin - Machine Washable Cover
Original price
$149.99
-
Original price
$149.99
Relax the way you've always wanted but were never able to with a normal, standard pillow... the All Sett Health 4 piece wedge pillow is contoured to provide you with the perfect upright or reclined angle. Ideal for use as a post surgery pillow, sit up bed pillow and sleeping wedge to provide soothing relief from back pain, muscle tension, acid reflux, GERD and general discomfort.
PRODUCT FEATURES:
4 Piece Bed Wedge Pillow
Medical Grade Support Foam
Removable Washable Cover
Non Slip Material
Protection Velcro
100% Adjustable Design
Includes 2 Vacuum Bags

NEAR-ZERO-GRAVITY RELIEF
Your back will fall in love with this versatile 4 piece wedge pillow and the near-zero-gravity relief it brings! No, you aren't suddenly floating weightless on the International Space Station... Just floating dreamily upon the supportive memory foam surface of the most comfortable pillow you've ever laid eyes – and skin – on.
DOZENS OF COMFORTABLE CONFIGURATIONS
Our bed wedge pillow transforms any bed or floor into an instant customizable recliner with dozens of cozy, comfy configurations. The two larger pillows fit together with a variety of slopes at the perfect angles for sitting up or reclining, as well as gentler angles for sleep and injury recovery. Reduce your need for chiropractic or massage therapy sessions. The ergonomic contoured design helps you avoid exacerbating existing back issues while lounging, reading or watching TV in bed.
STRAP ON PILLOW + TRIANGULAR SUPPORT PILLOW
The smaller pillow has a strap to attach it securely as a neck pillow that will support you throughout the night without slipping. Or attach to the bottom for lumbar support. The triangular pillow delivers full body relaxation by propping up your feet or supporting under the knees.
MADE WITH YOUR HEALTH IN MIND: Comfort is essential for surgery recovery but getting comfortable isn't always that easy. Our Orthopedic Medical Wedge Pillow Set is designed to provide firm support and comfort for both Back, Head, Legs, Knee, and Shoulders simultaneously, which can increase blood flow, promote breathing, reduce snoring and heartburn. Can reduce the effects of knee pain, back pain, Shoulder pain, varicose veins, edema etc.

MULTI ANGLE BACK SUPPORT TECHNOLOGY – The Teardrop shaped back wedge pillow can be used in so many ways: choose a high angle for sitting up or a deeper incline for reclining and sleeping, with any other angle in between. Adjustable back support is ideal for chronic pain relief, surgery recovery and comfortable daily relaxation. Use any cushion as a back pillow for sitting in bed.

LEG ELEVATION PILLOW - Keeping both legs elevated improves circulation, relieves back, hip and knee pain, and helps reduce the discomfort of swollen feet and ankle pain. This can help the pain after Leg and knee surgery. Using the both the back pillow for back support and the leg pillow for knee/leg support can be very helpful to recovery.

MULTI FUNCTIONAL BOLSTER PILLOW - With a convenient built-in strap, the smaller head cushion stays in place and attaches at the top of the Back pillow for neck support, or at the bottom of the back pillow for lower Lumbar back support. Detach the Bolster pillow as the perfect shoulder rest while sleeping.

INCLUDES 2 VACUUM STORAGE BAGS - Our versatile sitting pillow for bed comes with two vacuum storage bags for convenient transport, travel and storage. The outer covers are machine washable with a grippy underside to prevent the bed wedges from slipping out.