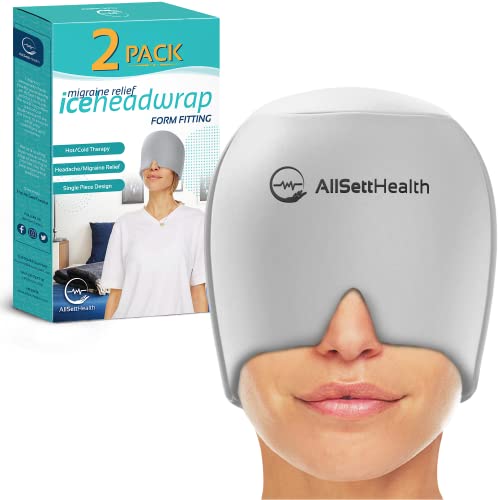 2 Pack Migraine Relief Ice Head Wrap Headache and Migraine Hat | Cold Gel Head Ice Pack with Face and Eye Mask Compress for Cooling Migraine Relief - Tension Headache Relief, Sinus Pressure Relief
Original price
$39.95
-
Original price
$39.95
2 Pack Headache and Migraine Relief

 

- Finally, natural drug free relief for headaches and migraines that actually works! This migraine ice head wrap offers 360 degrees of coverage to completely envelop your head in an icy cocoon of coolness and compression.
Cold Or Hot Therapy

 

- Form-fitting gel migraine hat can be frozen for cold therapy or microwaved for heated therapy. Directly targets problematic areas like the temples, forehead, sides, back of the neck and eyes. Soft and comfortable with no unnecessary pressure.
Snug Fit Provides Compression– One-piece wrap design offers soothing positive compression to alleviate pounding headaches and debilitating migraine flare ups. The natural snug fit of the migraine hat allows you to relax without worrying about it sliding off.
Freezes Fast, Stays Cold Longer

 

- Medical grade inner gel material freezes in just an hour and stays cold longer than traditional ice packs. If you need longer continuous relief, be sure to purchase two or more so you'll always have one to use and one ready to go.
Dark Light-Blocking Eye Cover

 

- Includes a built-in eye ice pack section at the bottom of the migraine cap to target puffy eyes or cluster headaches localized behind the eye. Light-blocking design delivers blackout effects without needing to close the curtains.