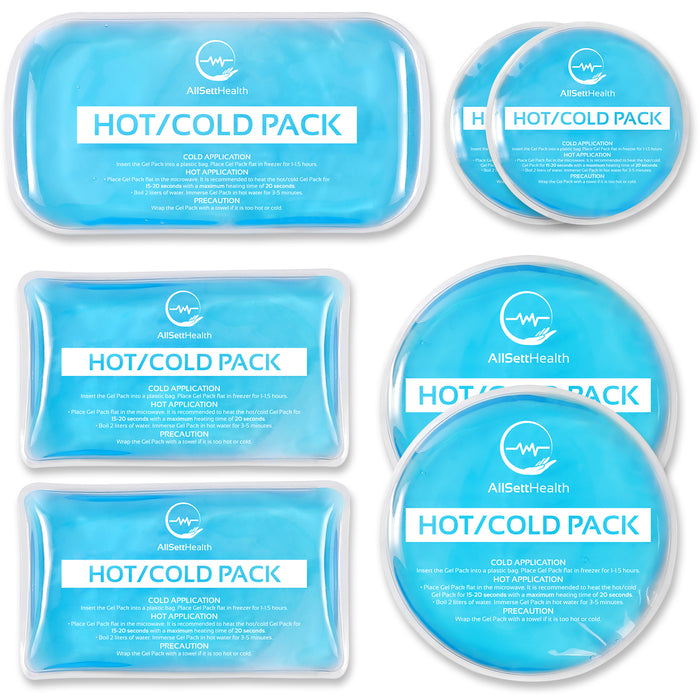 Reusable Hot and Cold Gel Ice Pack for Injury Pain Relief, Hot Cold Compress - 7 Pack
Original price
$29.99
-
Original price
$29.99
Dual Purpose Hot & Cold Packs

Non-toxic Gel Solution Natural & Safe

Use as Ice Packs in Cooler

Use on Sore Muscles for Pain Relief

Warms After Only Seconds in the Microwave

Great for Trips, Hiking, Barbecues
Our Hot & Cold compresses are convenient handy little packets that don't take up much room but can keep your necessities warm or cold when you need it most. Always keep a few of these form fitting gel pads in the freezer for quick & immediate use.
Whether used as a hand warmer for your pocket on a cold winter day, on a child with a black eye or hurt knee, or a bit of warm compression for some pain relief on overworked sore muscles, our Hot Cold packs provide fast, convenient warmth after only seconds in the microwave.
Each packet is filled with a non-toxic gel solution which is great for keeping food items cold. Whether it's a chicken salad sandwich in your lunchbox, out on a trip to the beach or a weekend in the woods, stuff an ice-cold gel pack in and keep your food fresh and cool all day. Throw several frozen packs in the cooler, and away you go! No more messy ice cubes.
These come in four perfect sizes that can be used for almost anything and anywhere. Thick medical grade plastic lining and strong seal prevents leaks or punctures. Convenient, easy to take along and can help in so many ways all at a decent cost.