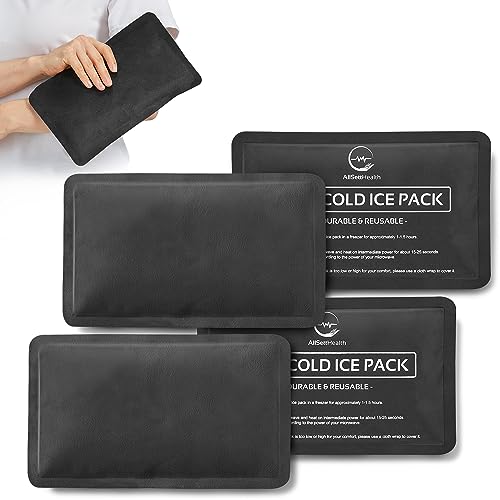 4 Pack Reusable Ice Packs for Injuries - Soft Ice Pack with Velvet Soft Fleece Fabric | Flexible Hot and Cold Gel Ice Pack Set- Cold Packs for Injuries, Knee, Back, Neck Pain - 10 x 6, Black
Original price
$29.95
-
Original price
$29.95
VELVETY SOFT TO THE TOUCH

 

- 10" x 6" ice packs for injuries reusable gel packs. The flexible ice pack design features one side made of nylon and the other from brushed fleece fabric that is soft to the touch, safe for sensitive skin, comfortable, and not too intense.
DUAL PURPOSE HOT / COLD THERAPY

 

- Treat bumps, bruises, sprains, strains, chronic pain, and nagging injuries. Use these soft ice packs as an ice pack for knees, reusable ice pack for back, cold pack for sore neck, and ice bags for injuries anywhere on the head, limbs, or body.
REDUCE SYMPTOMS & IMPROVE RECOVERY

 

- These ice bags for injuries are reusable to help manage aches and pains. The cold packs for injuries are reusable, soft & flexible ice packs that can help reduce swelling, headache, fever, menstrual cramps, and eye or sinus pressure.
TRAVEL-FRIENDLY FLEXIBLE & DURABLE

 

- Travel with peace of mind any time you drive or fly with these soft ice packs for injuries. A reusable hot and cold pack for pain relief is great to bring while traveling alone or vacationing with family so you're always prepared for anything.
PAIN RELIEF READY WHEN YOU NEED IT

 

- Life is unpredictable... Now you can keep cooling relief + soothing thermal therapy close by and available to you in a moment's notice. With this 2 PACK you'll always have at one handy to use while the other is being chilled in the freezer or getting heated up in the microwave.