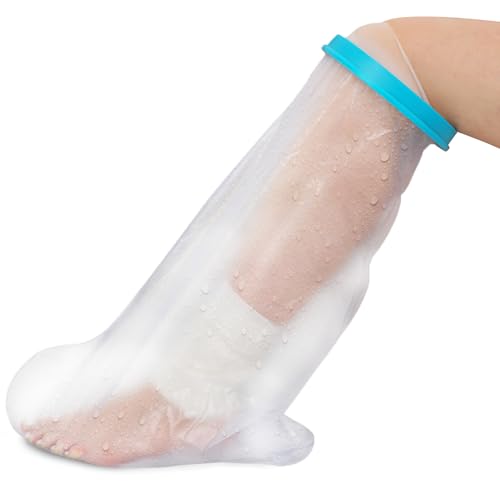 AllSett Health Large Cast Cover for Shower Leg – 100% Waterproof Cast Cover for foot | Leg Cast Covers for Shower Adult Reusable Boot and Cast Protector with Water-Tight Sealing, Keeps Wounds Dry
Original price
$29.99
-
Original price
$29.99
TAKE GOOD CARE OF YOUR WOUNDS - Having a cast is already very uncomfortable and difficult. Protect your cast and accelerate recovery with a simple accessory – our cast protectors for leg when taking shower prevents water from reaching the wound while you can enjoy a nice shower!

ENHANCED WATERPROOF PROTECTION - Made with high-quality materials and equipped with a water-tight sealing, our cast shower cover leg keeps your wounds dry and safe! Don't worry, the material is 100% waterproof and secure but also non-irritating.

EXCELLENT PROTECTION AND COMFORT - The leg cast shower cover not only protects your cast and wounds against moisture and impurities but also ensures comfortable wear! Measuring 20.5-inches in length and 4-inches in circumference, this leg cast cover provides excellent coverage and keeps your cast nice and dry from the elbow down!

REUSABLE AND SAFE - The shower cast cover leg is 100% skin-friendly and breathable but also durable and long-lasting. Lightweight and flexible, our waterproof leg cast cover is comfortable to use in the bath or rain without worrying about irritation or leaks.

EASY APPLICATION - The waterproof cast cover leg adult is super easy to put on and remove and ensures a strong grip, which makes it perfect for kids, adults and seniors in the post-surgery recovery period!