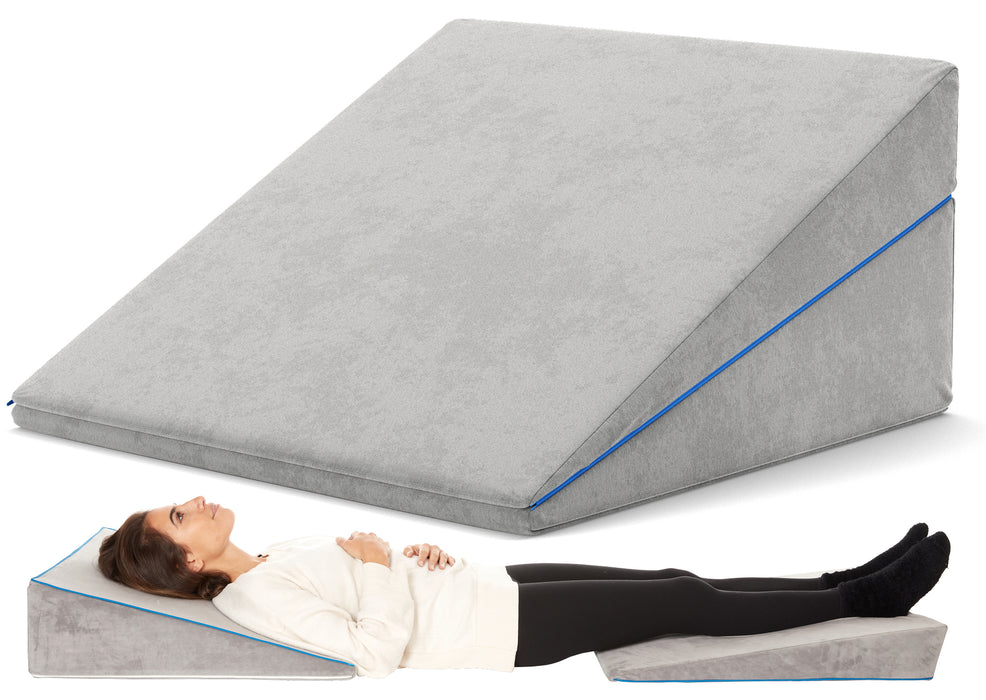 Bed Wedge Pillow – 3 in 1 Support - Adjustable to 4.5, 7.5 & 12 Inches – Combination Zipper Technology | Memory Foam Bed Wedge Pillow for Sleeping, Acid Reflux, Anti Snore, Machine Washable
Save

25

%
Save

25

%
Original price
$79.99
-
Original price
$79.99
Multi-Purpose 3 in 1 Support

Support Your Upper Back & Lower Body




High-Density Memory Foam, Strong Support

Removable & Washable Cover




Odor-Free, Use Right Out Of The Box 

Fits on Beds Sofas & Comfort Spaces



3-IN-1 MULTI ANGLE MEMORY FOAM PILLOW: Our deluxe memory foam wedge pillow offers complete control and adjustment over your angle of recline. It is comprised of a Bottom pillow at 7.5". and a Top pillow at 4.5" Zip them together for a 12" Inch combination. The 3 in 1 Angle Design technology can support usage for the head, back, or as the perfect leg wedge pillow
COMFORT FIRST: Everyone has a different neck, or back position preference while falling asleep. Our versatile bed wedge pillow can provide a 6.5° a 9°angle or zip the pillows together for a 25.5 angle that supports a gradual, or steep slope allowing any body type to get the proper amount of elevation. An excellent choice for side sleepers.
MADE WITH YOUR HEALTH IN MIND: Sleeping or laying with a wedge pillow increases blood flow, promotes breathing, reduces snoring and heartburn. Can reduce the effects of knee pain, back pain, varicose veins, edema, GERD, acid reflux, etc.
STORE AND CLEAN WITH EASE: You are going to love this wedge pillow so much you won't be able to go anywhere without it. Use the carry handle for traveling the compact, folding sleep wedge. Easily removable, the zippered cover is made with soft, breathable polyester material. Machine washable, the cover comes in a beautiful plush grey.
GREAT FOR LOUNGING, READING, WATCHING TV - This supportive and comfortable wedge pillow can be turned on its end to provide a relaxing angle for reading in bed or lounging and watching TV. Use it for foot elevation to decrease foot pain and improve circulation.
Our premium elevating 3-in-1 wedge pillow will help you fall asleep faster, stay asleep longer, and rise in the morning free from back and neck pain.

The three-way pillow provides comfort and support whether you like to sleep on your back or side.

It alleviates difficulty breathing while in a reclined position due to allergies, colds, or congestion. Relaxing with this wedge-shaped cushion is so much better than trying to prop yourself up on squishy, sagging pillows in bed. The perfect amount of firm support and soft comfort means it will never sag under pressure.

3 PILLOW OPTIONS IN 1

The best part of this supportive wedge pillow is you can customize the angle of incline and adjust your height. The bottom pillow is 7.5 inches tall with a 16.5° angle. The smaller, upper pillow is 4.5 inches tall with a 9° angle. You can zip both pillows together for a full elevation of 12 inches with an angle of 25.5°.

Lay it flat or upright against your bed's headboard or couch cushions. Great for lounging, sitting up straight, or sleeping on top of.

ALLEVIATE BACK AND NECK PAIN

The pillow is designed to comfortably elevate your head and back while lying down or sleeping in bed. The support and elevation can help alleviate neck & back pain, shoulder & arm pain, and hip & rib discomfort. Let this pillow assist you through injury, post-surgery recovery, physical therapy, and life beyond.