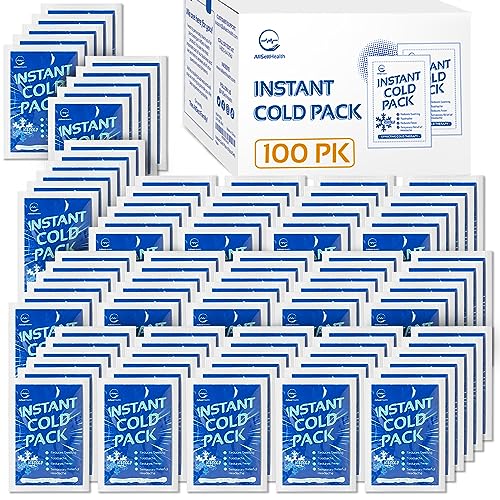 Instant Ice Cold Pack (6" x 4.5") - 100 Packs Disposable Instant Ice Packs for Injuries | Cold Compress Ice Pack for Pain Relief, Swelling, First Aid, Toothache, Athletes & Outdoor Activities
Original price
$69.95
-
Original price
$69.95
INSTANT RELIEF - NO FREEZER NEEDED! Just squeeze the center of the flexible ice pack to activate the single use disposable bags to make them as cold as ice. Apply cold packs to injury to reduce swelling, inflammation and pain for about 15 minutes per bag.

FIRST AID KIT ESSENTIAL - Each pack measures 4.5" x 6" making it ideal for most common sports injuries and body parts including: ankle, elbow, head, neck, shoulder, hip, foot, wrist, knee, calf and the perineal area. Add it to your household or car first aid kit for instant relief always on hand.

BULK SAVINGS FOR EVERYONE - Enjoy our 100 count bulk savings pack and save BIG compared to your local pharmacy, sports retailer or big box store. Great for families - adults and kids, and individuals who live active lifestyles, play sports and enjoy the outdoors.

REDUCE SWELLING - Using these disposable first aid ice packs to compress injuries immediately after they happen can help control swelling, pain and bruising. The moments immediately after a muscle or ligament injury are crucial to reduce swelling and promote faster healing.

PREMIUM QUALITY - Our ice packs are disposable for easy use as an instant cold compress. The tear resistant exterior won't leak or tear and can be safely transported in your hiking equipment, sports bag, travel luggage, car, first aid kit, or stored in your medicine cabinet at home.