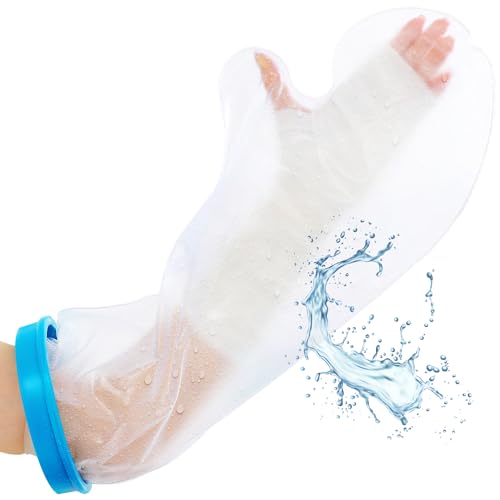 Large Arm Cast Cover for Shower – 100% Waterproof Cast Protector for Shower | Cast Cover with Water-Tight Seal – Reusable Cast Cover Arm to Keep Wounds Dry | Protects the Hand, Wrist, Elbow
Original price
$29.99
-
Original price
$29.99
TAKE GOOD CARE OF YOUR WOUNDS - Having a cast is already very uncomfortable and difficult. Protect your wound with our cast shower cover arm and accelerate recovery with a simple accessory – our cast cover for shower that prevents water from reaching the wound while you can enjoy a nice shower!

ENHANCED WATERPROOF PROTECTION - Made with high-quality PVC, waterproof materials and equipped with a water-tight sealing, our cast covers for shower arm keeps your wounds dry and safe! Don't worry, the material is 100% leak proof and secure but also non-irritating.

EXCELLENT PROTECTION AND COMFORT - The arm cast covers for shower adult not only protects your cast and wounds against moisture and impurities but also ensures comfortable wear! Lightweight and flexible, our waterproof arm cast cover is comfortable to use in the shower, bath or rain without feeling any discomfort.

REUSABLE AND SAFE - Made with durable, non-latex materials, the shower cast cover arm is 100% skin-friendly, non-irritating, and also durable and long-lasting. This kids cast covers for shower arm can be used daily for bathing, showering or post-surgery recovery!

EASY APPLICATION - The waterproof cast cover arm adult is super easy to put on and remove and ensures a strong grip, which makes it perfect for kids, adults and seniors in the post-surgery recovery period!