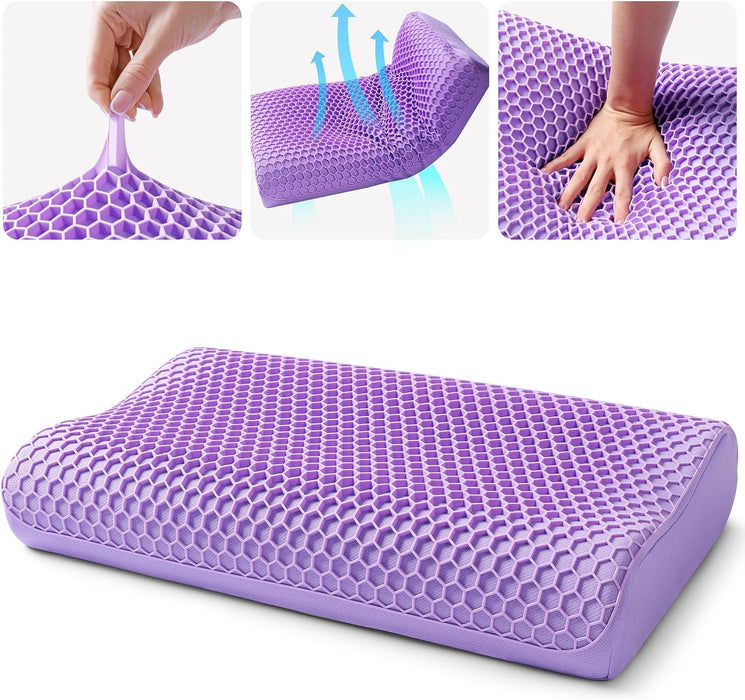 Orthopedic Pillow | Memory Foam Pillow for Neck Pain Relief or Back and Side Sleeper Pillow | Ergonomic Contour Pillow with New Technology Cooling Soft Gel Top for Sweat Free Sleep
Original price
$39.99
-
Original price
$39.99
BREATHABLE ERGONOMIC PILLOW – A must-have cervical pillow with memory foam for all-night cooling comfort. These memory foam pillows feature a soft gel top honeycomb texture that enhances coolness and breathability for deeper, restful sleep.

PLUSH SUPPORTIVE MEMORY FOAM – Crafted with premium memory foam our neck support pillow cradles your head and neck more effectively to reduce shoulder pain or cervical discomfort, so you can wake up feeling more focused and refreshed. The perfect side sleeping pillow for side sleepers with neck pain!

TWO ELEVATION OPTIONS – Our 22" x 14" x 4" contour pillow is the perfect neck pillow for bed, for side sleepers, back sleepers, and stomach sleepers. With two elevation options; 4 inches on one side and 3.5 inches on the other, our pillow provides customizable support and comfort, providing personalized neck and spine alignment, acid reflux and heartburn relief, and acting as an anti snore pillow.

INNOVATIVE GEL TOP – Our side sleeper pillow boasts an innovative gel top mesh designed for exceptional comfort. Engineered with a unique honeycomb shape, this design allows the pillow to gently cradle your neck and head in virtually any sleeping position providing superior air support and freshness, helping you stay cool and perspiration-free throughout the night .

WASHABLE COVER – This ergonomic and supportive memory foam neck pillow is fitted with a removable cover that's machine washable to keep it feeling clean and fresh. The hidden zipper tucks away to help you sleep undisturbed.



Better sleep begins with a better pillow. See why the [Brand] Soft Gel Orthopedic Pillow is helping change the way we sleep.
Traditional pillows sag, bunch up, and provide little support for our head and neck. And because they're either too tall or too flat your neck isn't getting the right support, which leads to aches, pains, and stiffness. We developed the [Brand] Orthopedic Pillow with high-density memory foam on the inside and a soft, flexible, cooling honeycomb top to provide more well-rounded support where you need it most. This high-quality neck support pillow is contoured to fit your sleep position more effectively, so you can sleep on your stomach, back, or side and still enjoy a deeper, more restful sleeping experience. And because it helps wick away sweat and moisture all throughout the night you can stay cool and comfortable when you're trying to recharge.
More importantly, our supportive pillow helps alleviate stiffness and pain by helping improve your sleep posture. This means waking up with improved focus and energy, so you're ready to take on the day with confidence. Complete with two different "ends" to better support your neck and sleep position, you're going to fall in love with what good sleep really means!
Product Details:
Soft Gel Orthopedic Pillow for Deep Sleep

Ergonomic and Comfortable Support to Relieve Pain

Cool and Breathable Honeycomb Texture (Top)

High-Density and Supportive Memory Foam Core

Helps Reduce Sweat for a Cooler Night's Sleep

Supports Side, Back, and Stomach Sleepers (Adults)

Dimensions: 21.66" W x 13.78" L (3.94" and 3.55" Sides)
Make good sleep a priority by better supporting your neck and head while staying cool all night long with a memory foam orthopedic pillow covered in a soft, breathable gel honeycomb top.