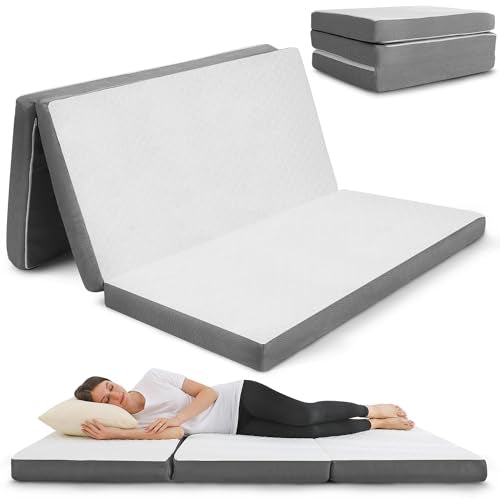 Queen Tri Folding Mattress with Memory Foam Layer - Trifold Foldable Bed Mattress with Washable Cover | Non-Slip Bottom Camping Floor Mattress Perfect Guest Bed, Queen Size Bed 78" x 58" x 4"
Original price
$179.99
-
Original price
$179.99
Elevate your comfort with Contour Comfort's Tri Folding Mattress. A harmonious blend of luxury and practicality, our trifold mattress redefines convenience with its innovative design. Immerse yourself in a world of superior sleep, whether accommodating guests or embracing the versatility of a foldable bed. With a commitment to quality and comfort, Contour Comfort brings you the perfect solution for restful nights and adaptable living.

Crafted with precision, our Tri Folding Mattress features a premium 4-inch memory foam layer for an indulgent sleep experience. Unveil the versatility of our space-saving 3-in-1 design, allowing the mattress to unfold to a spacious Full Size and conveniently fold for easy storage. With a commitment to quality and comfort, Contour Comfort offers a range of sizes, including Single, Twin, Twin XL, Full, and Queen, ensuring there's a perfect fit for every need.

Key Features:


Premium 4-inch memory foam layer


Space-saving 3-in-1 design for versatile use




Unmatched portability for on-the-go travels




Versatile functionality for guest beds, folding beds, and portable mattress needs




Removable and machine washable cover for easy maintenance




Non-slip bottom for stability




Ideal for camping or as a guest bed



Contour Comfort invites you to experience a new standard of sleep with our Tri Folding Mattress. Beyond its luxurious design and premium features, our commitment to quality ensures a mattress that adapts to your lifestyle seamlessly. From hosting guests to spontaneous adventures, find unparalleled comfort in a foldable bed that transcends boundaries.



Welcome to Contour Comfort, where innovation meets relaxation!