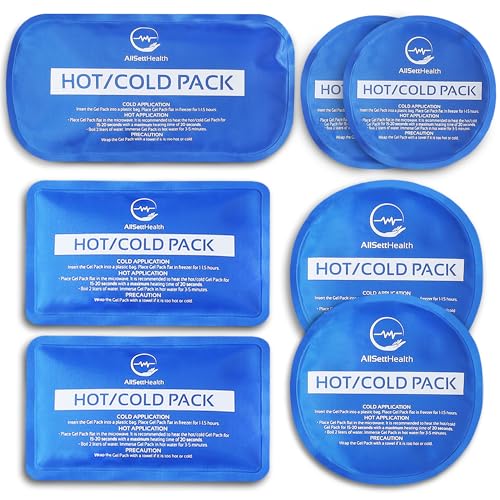 Reusable Ice Packs – Convenient Hot and Cold Ice Packs for Injuries Reusable – 7 Piece Flexible Ice Packs in Multiple Shapes and Sizes – Multi Use Ice Pack for Back Pain Relief, Neck, Shoulder
Original price
$32.95
-
Original price
$32.95
Dual Hot Cold Pack: Experience the ultimate pain relief with our reusable ice packs for injuries designed for hot and cold therapy. Easy to use, just toss it in the freezer to use as a cold compress or in the microwave for a warm compress, making recovery convenient and cost-effective.
Durable and Leak Resistant Design: Made from a thick medical-grade plastic lining with a strong seal, these gel ice packs for injuries reusable will pass the test of time. Their heavy-duty yet soft design minimizes the risk of leaks or punctures for long-lasting use.
7 Variety Pack for Ultimate Relief: Our comprehensive hot cold gel packs reusable collection includes a wide range of gel ice packs to cater to your every need. Whether you're seeking hot or cold therapy, you'll find the perfect gel ice pack for effective and reusable comfort.
Safe and Secure Use: Made with 100% non-toxic materials, these reusable cold packs for injury allow you to experience the natural benefits of thermal therapy. This reusable heat pack can help reduce swelling and inflammation while providing instant relief.
Small and Compact: With a lightweight and compact design, these gel ice packs reusable are a travel-friendly solution to use at the gym, at home, or even at the office! The soft ice packs can be used in the freezer or in the microwave.