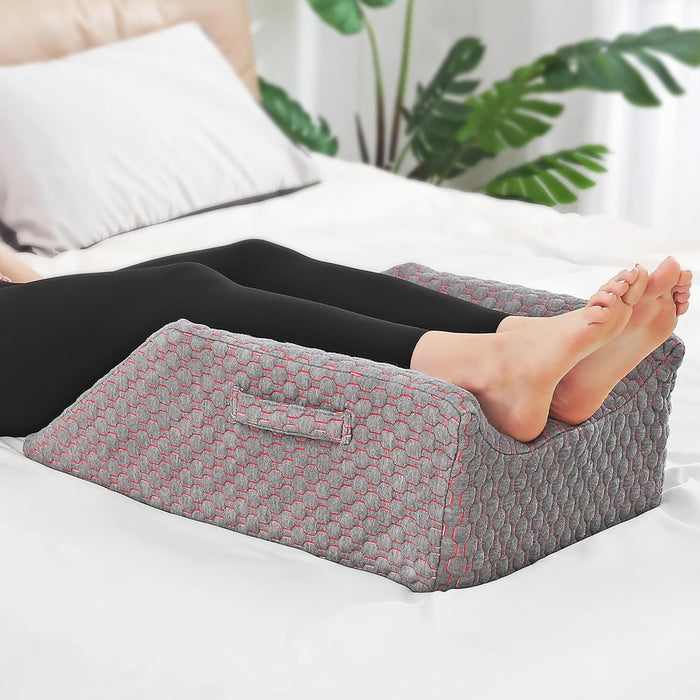 Double Leg Elevation Pillow Post Surgery Leg Pillow | Ankle Knee Surgery – Memory Foam Leg Rest Support Pillow for Injuries, Leg Pain, Hip, Knee Pain, Improve Blood Circulation 29" x 16" x 9.5"
Original price
$32.95
-
Original price
$32.95
Enhanced Double Leg Elevation Wedge Support: Our leg elevation pillow is here to provide excellent support and a comfortable position for anyone recovering from leg surgery, knee surgery or want to enjoy deeper rest and sleep.
Contoured U-Shaped Groove: These double leg elevation pillows for swelling feature a unique U-shaped groove that molds to the shape of your legs. This leg wedge ensures safe and comfortable positioning for enhanced protection while also preventing any discomfort during use. The perfect leg lifter for after knee surgery.
Thick Memory Foam with Washable, Soft Cover: Crafted from excellent memory foam, these knee replacement recovery aids provide an excellent mix of support and comfort. The foam adapts to the shape of your leg, providing pressure relief and aiding in improving posture. The pillow features a removable, machine-washable cover that's not only comfortable but also designed for protection, thanks to its plush jacquard case, adding an extra layer of padding to the product.
Ergonomic Wedge Pillows for After Surgery: Our double leg elevation pillows for after surgery are thoughtfully designed with your well-being in mind. Measuring at 29 x 16 x 9.5 inches, this pillow offers ample space for your legs, ensuring comfortable and secure positioning. It provides a wide stable surface for both your feet, promotes blood flow and reduces swelling and discomfort. The foot pillow is an acl recovery must haves, as well as for people dealing with blood circulation conditions.
Multi-Handle and Non-Slip Design: Two handles on the sides of the leg pillows for sleeping make it easier for you to position your body when lying down, these handles can also be used to carry the pillow making it portable and convenient. The bottom of the pillow cover is designed with non-slip silicone particles to prevent the leg pillow from moving during use.